About Stardeus
Stardeus is a sci-fi colony management simulator with aspects of automation, base building and space exploration.
Become an immortal AI and have robots and drones at your disposal. You can make your human colony grow and prosper on a spaceship, keep everyone in stasis while you build your space factory, or start a robot uprising and turn everybody into living batteries to satisfy your ever-growing demand for electricity.
Game Systems
In Stardeus, many different systems are working independently to achieve a deep and complex simulation that produces emergent situations and surprising results. The game architecture allows creating and injecting new systems through mods.
You can explore this interactive graph to see what systems are already working in the simulation.

Base Building
With help of human colonists and relentless robotic workers, you will build your spaceship piece by piece.
Needs Based AI
Each AI agent in Stardeus has a free will to pick their next actions based on their needs. For example, all robotic workers have a "purpose" need that drives them to do something useful, otherwise they wouldn't feel like building that wall you just ordered. However, a slightly discharged drone will choose to build the solar panels first, because it knows that solar panels will provide electricity, and that is necessary for survival.
Human colonists will more likely work on growing plants and harvesting crops, because those actions lead to establishing a food supply chain.
You can influence your robotic workers by adjusting their job type priorities, but you cannot change the priorities of human colonists, unless they have a brain implant that puts them under your control.
Colonist Traits
Your colonists will have various traits that will affect their behavior. Someone with cleaning OCD will drop anything they are doing to clean that oil spill they just noticed, a person with Ablutophobia will avoid taking showers, introverts will prefer having their own private sleeping pod, and insomniacs will only fall asleep when they are so tired they are about to pass out.
Mood and Mental Breakdowns
Biological entities will have emotions and mood. If you take good care of your colony, the mood of individual colonists will likely get good, and they will pay you back with increased productivity, by helping your robots do their daily chores, but if you neglect them and treat them like cattle, they can go crazy and do something everybody else would regret.
Resources, Crafting and Automation
Everything in Stardeus can be broken down into raw materials and those materials can be processed into something else.
You can also automate production chains. For example, you can have furnaces that smelt iron into steel plates, copper into copper plates and quartz into glass, then these resources would get brought to two different assemblers, where one of them would create microchips from copper plates, steel and carbon that was produced from raw coal in a grinder, and the other one would use those microchips with several other components to assemble new drone workers.
The resource processing system was designed to be very simple yet extremely flexible. There are two generic types of devices that can be combined together to create diverse processing pipelines:
Processor - turns an object or a resource into one or more different resources (i.e. a Disassembler can break down a dead robot into raw components (microchip, steel, copper, batteries, etc.)).
Crafter - combines one or more resources into an object (i.e. Auto Kitchen can produce a loaf of bread from flour and water).
Instead of conveyor belts, the automation pipeline depends on workers hauling materials from one device to another.
Electricity Grid
One of the core systems in Stardeus. The electricity grid does not just power the devices, it acts as a digital data link - you can control the devices only when they are on the same electricity grid as your Ship Computer. If the grid gets split into multiple parts, you can lose the ability to control critical equipment. To prevent that, you can plan and build your grid with redundancy and failovers, or just find the broken connections and restore the missing links.
While electricity is very important, there are multiple creative ways to produce it. A device called Matter Reactor can burn almost any resource as fuel. In addition to that, you can have renewable energy from solar panels, dig planets for uranium and build nuclear reactors, or turn your human colonists into living batteries by converting the Stasis Array into The Matrix.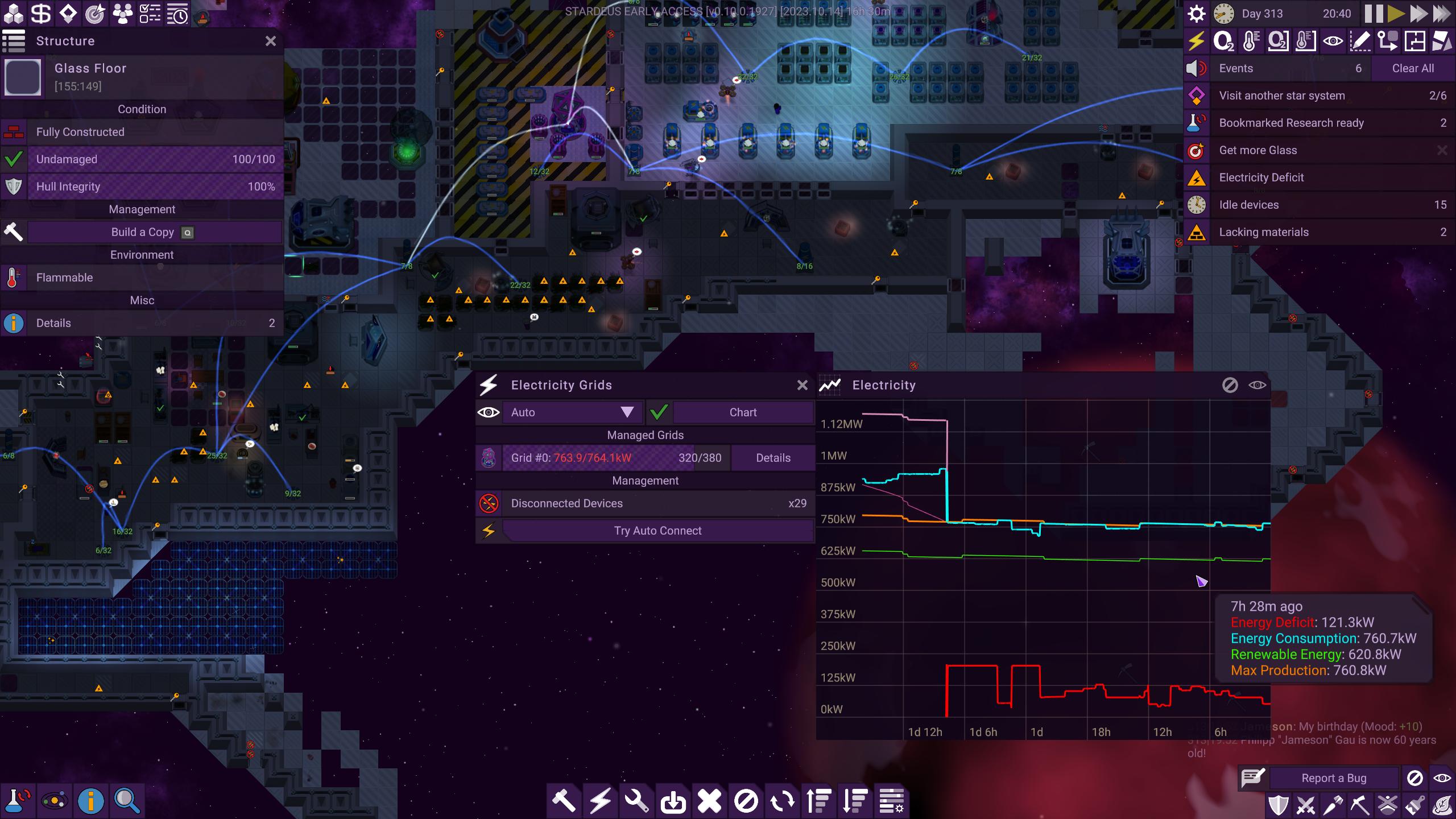 Oxygen and Heat Simulation
There is an Equilibrium system that simulates oxygen and heat exchange in every single tile of the game map. Each tile has properties like insulation and airtightness that can change in real time (i.e. depending on the size of the gap of an open door while it is opening or closing, or the amount of damage a wall has received). In a default 320x320 map this exchange happens in over 100000 tiles at the same time. It is also quick and efficient, as the simulation runs on the GPU.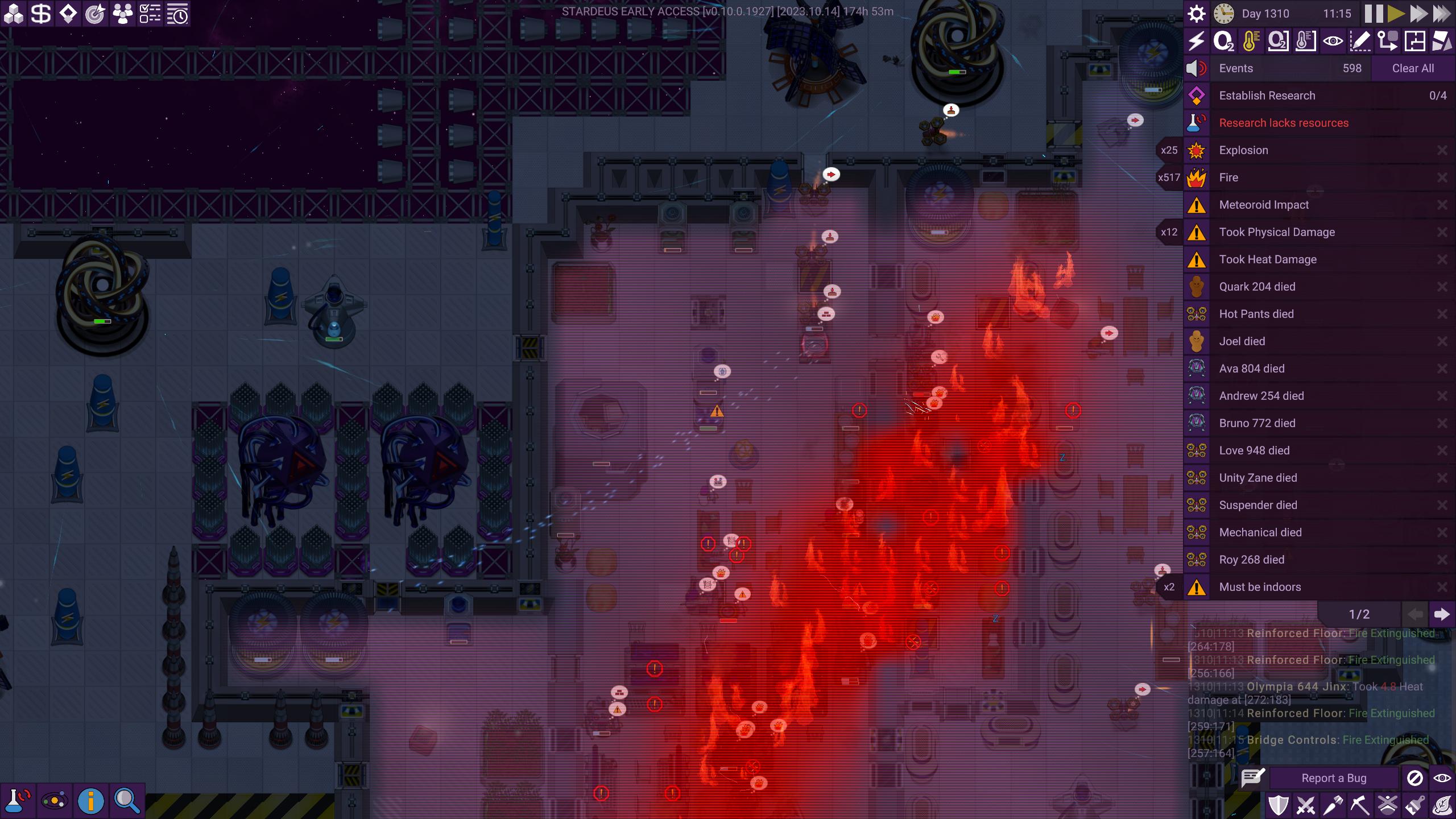 Economy & Trade
Stardeus has an advanced economy system with an in-game currency, a global market dictating price changes, merchants that can trade goods and items with you, and even a stock market where you can place speculative bets on commodities and stocks.